In Army bootcamp, we learned how to clear a building quickly and efficiently. Just like the tutorials in FPS games, we had a "killhouse", a building full of targets that we had to sweep through and "shoot" (no ammo was used :/... safety concerns and whatnot) targets. While learning, however, our killhouse was simply sandbags on the ground (Called a "Glass Wall Killhouse"), outlining "rooms and walls". We could not step over a sandbag, or we failed the exercise, and we were not permitted to simply "walk through" areas where doors were, either. Instead, we stacked up, like so...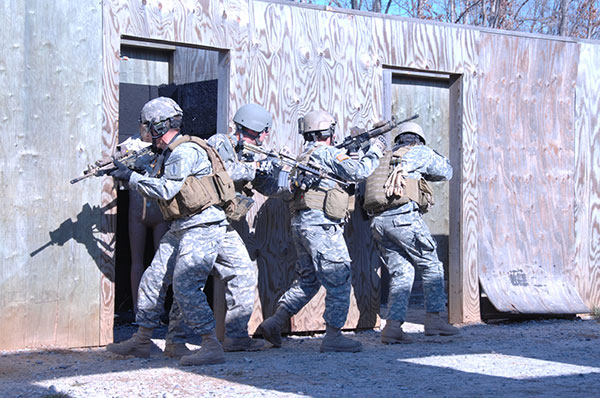 ...and entered like a damn train. One after the other, BAM BAM BAM... One goes right, the next goes left, etc. As we stepped into the room, we turned our respective direction, swept the room roughly 90 degrees, and moved toward a corner. By the time you've stepped in and started your sweep, the guy behind you is stepping in and sweeping the other way, hopefully killing anything behind you.
The reason for all of this song and dance is that by knowing what you're doing and where you're going, you can execute this effortlessly, and you can engage any target in the room quickly, while not getting in one another's way. Also, the rapid entry forces the targets inside to choose between firing at the door entrance, or trying to track the guy that is moving AWAY from the door, and toward the corner of the room.
To an extent, Blacklight is a glass-wall killhouse, due to HRV. If you know a target is in a room, stacking up outside of the door prevents them from getting an angle of fire on you until the actual entry itself. A potential weakness of this tactic lies in the fact that the enemy has HRV, too, and they may possibly know that you're outside of the room they are in. They may sight up the door, waiting to hold the trigger down... or even toss a grenade outside. For this reason, the front man should be heavily armored, so as to best survive the likely initial hits that may occur as they slide toward the far corner.
Prior to entry, the REAR man should activate their HRV, and give locations of known targets, in case anything has changed since the last use of HRV. Locations should be given based on the location of the door. As you turn and enter, you are entering straight, but you are stacked up with a number of different facings (Pointman is aiming at the door, in case the target gets brave and decides to come out spraying, rear man is facing the room so as to see with their HRV...) so everything should be based off of the facing as if you were walking through the door, and into your buddies living room. Based on that orientation, a target might be "Far right corner", "Far left corner", "Near left/right", "Center", etc.
In the Army, we couldn't see through walls... and our front man wasn't any more armored than the rest of us. This was all very much based on the element of surprise, with some basis in shock and awe. That front man was reliant on the "OH SHIT!" moment the targets had when we kicked in their door... we couldn't give that away by screaming "NOW!" or whatever XD. So instead, the silent "ready" check was a lean back. That's it... just a quick lean, which was repeated til the end of the line, then a returning lean forward. Once the lean went to the back and made its way back foward, the SECOND that front guy got that forward lean, we hit the targets hard.
Of course, in Blacklight, they can't hear us, and we can't feel a lean, so a simple "GO!" works XD
Whoever is in the rear makes the call... not the front man... you know why? HRV. That crap takes a second to pull up and to put away, and that rear guy is unable to fire. HRV should be set for "Push and hold" anyway. Push... hold... and KEEP HELD as you give information. You're the last one in, and you can move while HRV does its thing.
(HRV goes up!)
"Two targets, Far left corner, center!"
*Releases HRV*
GO!
*Stack begins entry procedure*
(HRV goes down in time for rear person to enter the room)
Congrats, the room is now clear